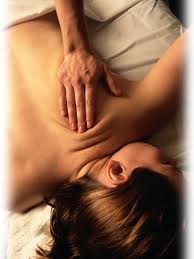 There are a few things in life more enjoyable than a relaxing, soothing, deep tissue massage. It is well known in the scientific literature that massage aids in the healing process, enhances overall body function, and promotes well-being and relaxation. In fact, our patients report feeling incredibly after a massage from our well-experienced massage therapist.  Included are some of the benefits:
 Improves Range of Motion
Increases Blood Circulation
Lowers Blood Pressure
Relaxes Muscles
Reduces Heart Rate
Releases Tight and Sore Muscles
Deactivates Myofascial Triggers
Helps Relieve Nerve Compression
Increases Flexibility
Massage involves working and acting on the body with pressure, tension, motion, or vibration either done manually or with mechanical aids. Target tissues may include muscles, tendons, ligaments, fascia, skin, joints, or other connective tissue.
Massage can be applied with the hands, fingers, elbows, knees, forearm, and feet. In fact, there are over eighty different recognized massage modalities!   Here are just a few techniques that we  use in our office:
Medical Therapeutic Massage
Deep Tissue Massage
Sports Massage
Myofascial Release
Trigger Point Therapy
Hot Stone Therapy
Prenatal Massage
Shiatsu
Reflexology
General Stretching
So, come on in and treat yourself. Life is stressful enough! To book your appointment, call us at (661) 942-5000.