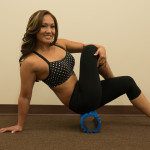 Performance Chiropractic is proud to announce our new line of rehab equipment that is created and tested by professionals.  After a decade and a half of treating patients, including athletes, personal injury victims, the elderly, workers, and everyone else in between, ONE thing is for sure…………..patients do better and recover faster when they are participate in their own care!  As such, we are a company dedicated to teaching individuals the art and science of self-therapy along with providing the tools to do so.  Hence, we created MY BODY THERAPY.  Our journey has begun and our pipeline of excellent and durable products has just begun!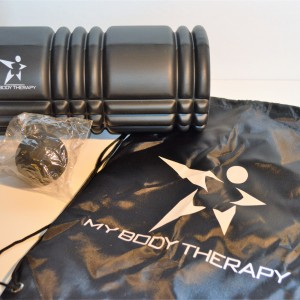 Trigger-Point Therapy Foam Roller & Ball Kit
Our Trigger-Point Therapy Foam Roller & Ball Kit conveniently comes with everything you need to perform effective self-therapy on muscles, trigger points, adhesions, and other muscle and soft tissue problems, including a convenient CARRYING-BAG for easy transportation. Both foam roller and ball are constructed from durable materials that will provide you with a lifetime of use and pain relief! The use of My Body Therapy Foam Rollers and Trigger Point Therapy Balls have been proven to improve circulation, deactivate trigger points, break up long-term build up of muscle adhesions, increase range-of-motion, improve balance and gait, improve muscle and joint flexibility, diminish pain, and most importantly, keep your muscles and connective tissue healthy! Our equipment is doctor recommended and serve as trusted tools for massage therapists, trainers, chiropractors, physical therapists, athletes and patients.
Kit includes: 1.) FOAM ROLLER, 2.) TRIGGER-POINT THERAPY BALL, & 3.) CARRYING BAG!

PERFECT DESIGN – Durable, lightweight & effective. Use for pain, rehab, or sports performance!

DUAL COMPRESSION ZONES – Use FLAT ZONE on painful areas & PROJECTION ZONE to work muscles deeper!

PAIN & REHAB – Effectively treat common sources pain like trigger points, knots, & fibrotic tissue.

QUALITY PRODUCT – Classic Black & White look and excellent quality. Built to last a lifetime!

Roller and Ball can also be purchased individually.

$49.00