We'd like to thank our patients for being kind enough to share their stories!
To read our most recent Verified Customer Reviews, please refer to the column on the right under the orange bullhorn. 
Helped with Sciatic Pain and Spinal Stiffness
"I have been seeing Dr. Duenas for a number of years for maintenance and problems.  When I truly have a problem I come to see him first because he is knowledgeable and he really, really helps me".
j
Abnormal Cervical Curve Improved. 
Grace Carter underwent a program of cervical spinal correction and was diligent with her recommended treatment schedule.  As a result,  her neck curve was nicely improved.
"He (Dr. Duenas) has corrected me in about a year.  I will continue my treatments as maintenance as recommended".
f
Patient is able to hold off on surgery with improvement in symptoms.
"I was skeptical about chiropractic help, going with extreme pain to an appointment made by my wife. I met Dr.Rick Duenas and his staff. The very first appointment I left Dr. Duenas office feeling so much better, that walking pain free to my vehicle was an emotional experience to me. Dr. D. and his staff are friendly and professional. I have returned for several more appointments and have benefited from everyone. My problem with my back and hip have improved so much I am glad to delay any surgery that was proposed by other medical professional. I had actually stopped gardening, bowling even going shopping and what effected me most of all, I had to stop coaching my youth football teams because I couldn't ,walk ,stand or teach my players the plays they needed to learn. I would like to express to anyone with any type of skeletal problem to see Dr.D and see what he can do, you will leave knowing if he can help you or not". 
5 out of 5 stars – Lonnie F.
Hip Pain Pain Improved.
Prior to spinal adjustments, most patients undergo stretching and soft tissue work as needed.  As do most patients, this individual truly enjoys this aspect of our care!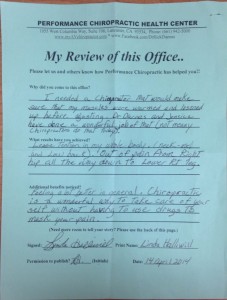 j
Patient's Symptoms and Cervical Curve Improved!
"I am feeling better, experiencing much less pain, and I am very happy with it.  Thanks to the doctor and Performance Chiropractic.  I am feeling much better! Thank you very much".
Patient's Back Pain is Improved, Allowing Him to Return to Golfing.
"Dr Rick was recommended by my therapist. I had issues with my spine and my elbows. Dr. Rick discovered I had other issues besides the normal adjustments and recommended I see an orthopedist. His diagnosis was correct. He could have just continued with the adjustments but my well being was his concern not his pockets. I am happy to say that I no longer have any issues with my elbows and he has rid me of back pain. I can now golf and exercise without discomfort. His staff is courteous, facility is immaculate, and his concerns are for his patients health. His professionalism reflects credit upon his self and his establishment. I have recommended him to all my friends and will continue this practice in the future. My thanks to Dr. Rick, Jessica and Staff!!!
5 out of 5 stars – Ray
f
Patient Loses 29 lbs in under 2 Months.
"I want to give thanks to Dr. Duenas for teaching me how to eat better.  Now I feel healthy and with more energy".
f
Theresa K. is on our maintenance program and undergoes regular weekly adjustments for optimal spinal health.
"The staff at Performance Chiropractic are caring and friendly. They go the extra mile greeting you as you arrive. Wait time is little to none, in and out. Doctor Duenas  and staff are very helpful, informative and pleasant. The center is clean, bright and cheery. Each patient is provided personal care unique to their own situation. At Performance Chiropractic, your well being, is of the utmost importance, and with the help of Doctor Duenas, you can rest assured that you'll be feeling better in no time at all. I personally enjoy my visits there, and have nothing but the highest respect for the Doctor and his staff".
5 out of 5 stars – Theresa K.
Patient Sheds Weight On Our Detox and Nutrition Program! Way To Go

!

 

"I have basically have lost 36 lbs to date and I have done that strictly changing my diet. I have no cravings now, maybe chocolate once in a while, but basically I don't have any cravings and it has not been a problem staying on the diet and I am very happy with the results".

f

Dan M. is on our maintenance program and feels his overall health is improved through  regular chiropractic adjustments.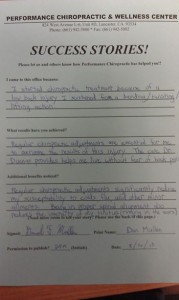 f
Peripheral Neuropathy and Low Back Pain Improved..
(Regarding coming to our office)  "I highly recommend it.  I don't mean to sound cliché, but seriously, I highly recommend it"
(Regarding his wife, who is also a patient)   "She is pretty much a brand new woman so, my bow of appreciation. It's amazing!"
f
f
Lizette G. had back surgery prior to coming to our office.  As part of our comprehensive care we recommend patients regain normal body composition as best possible despite the presenting medical condition.  In most cases, losing weight helps the patient medically in so many different ways!
"I came to this office because I needed therapy for my back after having back surgery. Under the care of Dr. Duenas, I started a weight loss program that has helped me lose weight that has resulted in less stress on my back. I have received so many compliments on my weight loss and recommend this program to anyone that is ready to take the next step and commit to the program because the results are real and visible".
5 out of 5 stars  -Lizette G.
f
Mr. Davis suffered a helicopter injury while in the military serving our country.  Our care has helped him better tolerate symptoms from his permanent injury.
"The goal here at the clinic was to reduce the pain, and it has".
When asked if he would recommend our office to friends and family members,  Mr. Davis' response was, "I already have".
f
Neck and Low Back Pain Helped.
"I have always enjoyed outdoor activity involving walking with my camera looking for birds. Before my treatment at Performance Chiropractic, I experienced pain and a scraping sensation when I rotated my head from side to side. There was also lower back discomfort when standing or walking, which shortened the time I could spend with my camera.
Through a program of traction, manual adjustment, exercise and massage, I no longer have neck pain and can walk at least a mile daily, carrying a 10 lb. camera-lens hookup. I walk with improved flexibility and balance on uneven ground without falls.
The service is efficient, informed, cheerful and dedicated to continuous improvement. Supplements are available to meet my nutritional needs.
I really like it here!"
5 out of 5 stars.  – Pat F.B
Peripheral Neuropathy and Back Pain. Better After a Few Visits….
After 4 visits:  " I am pain free right now.  And, I've been taught some exercises that will help with my weight problem, get me more strength, my feet aren't bothering anymore.  It's…..pretty nice"!
f
Veteran Improves with Our Care. 
"I came to Performance Chiropractic with a background of injuries from 4 tours of duty in VietNam. It had become progressively more difficult to stand and walk without pain due to weakened muscles from diabetic neuropathy and stiffened neck muscles from flying/ejecting out of aircraft. X-rays revealed an extreme forward angle to my neck which is being corrected by traction and regular manual adjustments. These adjustments continue to relieve periodic discomfort, along with targeted exercises and deep tissue massage. I now have increased strength in my back, arms and neck muscles. Dr. Duenas also repositioned a rib dislocated by a fall and started me on a nutritional shake, overcoming my negative attitude toward breakfast. I am happier and more active and able to enjoy regular travel".
5 out of 5 stars. Doug B.
d
Chronic Low Back Pain & Bad Posture
"I was able to walk again without limping".
"I wouldn't recommend anyone else.  There is nobody here, I've seen quite a few chiropractors in the Antelope Valley and I have to say, you guys have a pretty good practice over here.  I am glad you guys are here".
f
f
Chronic Neck Pain & Headaches, Lancaster, CA
(When asked about the results of his treatment)  "It released a lot of my tension, which I felt much better, 100 percent".
f
Chronic Back Pain Testimonial Lancaster, CA (Spanish)
(Translated from Spanish) "Not only do they adjust your spine, but they teach you how to change your life, you bad eating habits. I began making shakes. I've lost weight and so has my husband".
             (When asked if she would refer others to our office)   "Absolutely!  When someone is satisfied, there is no problem.  I've changed in the sense that when there is no pain one feels better able to do things at home!"
f
Pain-Free From Back Pain! Lancaster, CA (Spanish).  This patient was referred by her husband, who also got great results.   She then referred her son.  Care for the entire family…
(Translated) "After 2-3 visits I was feeling better.  I didn't come back a 4th time because (initially) I used to have pain bending over and(after the 3rd visit), the pain was gone".
f
Headaches & Neck Pain Improved –  Lancaster, CA (Spanish)
(When asked if she would recommend others to our office)(Translated)   "Absolutely.  You are very gentle, patients are attended well, and you are timely so that I didn't ever have to wait long".
Neck & Back Pain Improved (Spanish)
(Translated) "I had back and neck pain and I feel much better with the treatment".
WE HAVE HELPED MANY!  WE MAY BE ABLE TO HELP YOU….